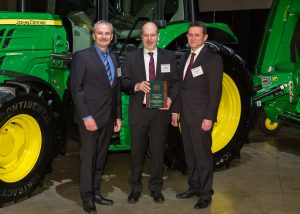 Barcelona, 18th March 2014. – FICOSA has earned recognition as a Partner-level supplier for 2013 in the John Deere Achieving Excellence Program.
The Partner-level status is Deere & Company's highest supplier rating. Ficosa International GmbH, which leads the Industrial and Commercial Vehicle Business Unit, was selected for the honor in recognition of its dedication to providing products and service of outstanding quality as well as its commitment to continuous improvement. Company employees accepted the recognition during formal ceremonies held in Davenport (USA).
FICOSA is a supplier of telescopic rear-view mirrors to John Deere's operation in Europe, NAFTA, Asia and Brazil.
Suppliers who participate in the Achieving Excellence program are evaluated annually in several key performance categories, including quality, cost management, delivery, technical support and wavelength, which is a measure of responsiveness. John Deere Supply Management created the program in 1991 to provide a supplier evaluation and feedback process that promotes continuous improvement.
In the picture, from left to right, Mr. Reinhard Wagner, Supply Base Manager, Operator Stations JohnDeere; Joern Klingemann, General Manager, Ficosa International GmbH; Gunther Seydak Global Key Account Manager, AG/CE Ficosa International GmbH.