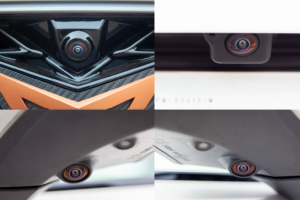 The company has experienced an annual growth of 70% in camera production over the last three years
Ficosa is already among the top five vision suppliers for the automotive sector worldwide
The use of cameras, both inside and outside the vehicle, allows for safer mobility experiences and is an essential step towards autonomous driving
Ficosa, a leading global company dedicated to the research, development, production, and marketing of advanced vision, safety, and efficiency solutions for the automotive industry, plans to sell more than 7 million cameras over the course of 2023. Ficosa's vision portfolio includes in-vehicle and out-of-vehicle cameras to drive solutions for improved safety and comfort in mobility.
The company began developing and commercializing vision solutions in 2014. Since then, in less than ten years, Ficosa has positioned itself as the fifth largest supplier of cameras for the automotive sector worldwide, working on disruptive projects with major automotive brands for the European, American, and Asian markets. In this sense, camera production at Ficosa has experienced sustained annual growth of 70% over the last three years.
Ficosa's cameras stand out for having the best image quality in the market, offering a greater range of vision and resolution even in the most adverse conditions. The multinational, which invests 8% of its annual revenue in R&D, has camera production capacity on three continents through its centers in Barcelona, the Philippines, Morocco, and China.
Josep Maria Forcadell, CTO of Ficosa, says: "This new milestone is the result of our constant commitment to the best talent and R&D. Thanks to our engineering and production capabilities, in recent years we have positioned ourselves as a global reference in a segment that is essential for the future of the automotive sector. Through our vision solutions, we are taking one step further to help build a much safer and more efficient future of mobility for everyone."
Cameras, an indispensable element for the advancement of autonomous vehicles
Cameras are an essential element for the advancement of autonomous driving, and the growth in this segment has also been supported by the significant role cameras play in developing advanced driver assistance systems (ADAS).
Within this area, Ficosa offers all kinds of comprehensive vision solutions through cameras for both the interior and exterior of the vehicle. An example of this is the integration of cameras in the Surround View System, Ficosa's solution that offers the driver a 360º view around the vehicle through images from multiple perspectives, allowing for safer and more efficient mobility. Another segment in which the company is also applying its extensive knowledge in vision is In-Cabin Monitoring solutions, where Ficosa is working on different disruptive projects for premium segment car manufacturers. In-Cabin Monitoring is a set of technologies that monitor and analyze activity inside the vehicle to improve driver and passenger safety and comfort. Through an innovative integrated system of interior sensors, including cameras, radars, and a wide variety of algorithms, numerous applications can be developed, such as solutions for detecting driver drowsiness or alerting of possible intrusions into the vehicle.
In this sense, these advanced driver assistance systems also play a crucial role in achieving the highest levels of autonomous driving.
As Josep Maria Forcadell explains, "having perimeter and interior vehicle vision is an essential step in the roadmap towards autonomous driving. And, to achieve this, it is essential to have high-performance cameras with excellent image quality that can be effectively integrated into monitoring solutions, object and pedestrian detection, or parking assistance solutions, among others. Our products meet all these characteristics and, for this reason, the main brands in the automotive sector around the world trust Ficosa for the supply of cameras for their vehicles."