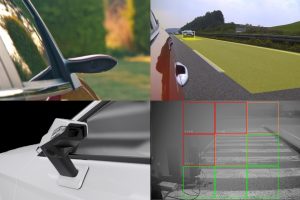 Partnership brings the automotive computer vision functions from ADASENS to the embedded vision processor solutions from Videantis
Hannover and Lindau, Germany – Videantis and ADASENS (part of the FICOSA group) today announced they are partnering to bring advanced sensing technologies to self-driving vehicles and automotive ADAS applications. The partnership combines the ADASENS portfolio of computer vision functions with videantis's low-power, high-performance embedded vision processor.
The automotive industry has been rapidly expanding its usage of cameras for a wide variety of safety-increasing and self-driving features. Rear cameras are adding computer vision to automatically brake and prevent backover incidents, surround view systems greatly increase visibility and are including automated parking functionality, front cameras are used to maintain distance or brake when needed, and side cameras are replacing mirrors. Autonomous vehicles use many cameras with computer vision techniques to sense and understand their full surroundings.
Marco Jacobs, VP Marketing at videantis, said, "We've been working together with ADASENS already for some time. Intelligent automotive cameras that include our vision processors have already hit the market and mass production will start in 2019. Key OEMs and Tier 1s have chosen FICOSA and ADASENS as the suppliers of the cameras and computer vision functions, respectively, for their next-generation vehicles, and we're proud to be working with them."
Florian Baumann, Technical Director at ADASENS, said, "We're excited to bring our extensive portfolio of vision functions to the videantis processor architecture and jointly work together to fulfill our customer's needs."
Today's automotive vision computation tasks often require multiple powerful CPUs and GPUs, which burn hundreds of Watts, to process images into meaningful information that is used to control the car. The videantis processor architecture performs these complex machine vision and image processing tasks much faster and at much lower power levels, enabling this technology to be embedded into smaller ECUs and even directly into tiny cameras.
Videantis will show an automotive camera by FICOSA that has the ADASENS algorithms running on its embedded vision processor at CES 2018 from January 9-12 in Las Vegas.