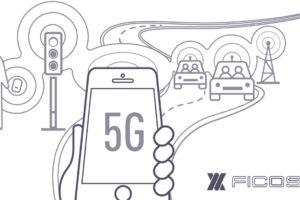 The company has added to its product portfolio the Bitax telematic platform, a hybrid solution which allows the integration of Wi-Fi technology (DSRC) and cellular technology (C-V2X)
 Under the framework of 5G Barcelona, Ficosa also shows three use cases of a 5G connected vehicle and C-V2X technology, with its Carcom platform in a real city environment
 The multinational has become the first company to launch V2X technology to market after connecting the first 500 vehicles with City Now, Panasonic's smart city in Denver, Colorado
Ficosa, a top-tier global provider devoted to the research, development, manufacturing and marketing of vision, safety, connectivity and efficiency systems for the automotive sector, leads the connected car race with the latest advanced communications technology for vehicles. The company, which will be at Mobile World Congress 2019, is developing cutting-edge connectivity solutions with the aim of revolutionising the driving experience, making it safer, more comfortable and with endless entertainment options, paving the way towards the driverless car.
Ficosa's main novelty at the event will be Bitax, a hybrid V2X (vehicle-to-everything) platform that, allows for short-range communication over Wi-Fi technology (DSRC) and cellular technology (Cellular-V2X). This hybrid solution allows for both types of communication using the same hardware platform. As the regulations vary by region, this is an important advance for the industry in terms of implementing one unique V2X platform worldwide.
The company also offers the CarCom platform, which allows to integrate various connectivity solutions, in a modular way. This solution meets the goal of facilitating the direct communication between vehicles and new technology that will be the future of mobility (high-precision positioning, digital tuning antenna, as well as the 5G new modules).
In the words of Joan Palacin, director of the Ficosa Advanced Communications Business Unit: "In this long-distance race towards the car of the future, it is essential to have a clear view of where we want to go. At Ficosa, we know that both connectivity and safety are key concepts that we must tackle if we want to make autonomous driving a reality. In this regard, V2X technology is unique, as in addition to being a top-notch connectivity tool it is also able to prevent accidents, and this is vital to the future of our industry."
Use cases of connected car with C-V2X and 5G technology
At MWC 2019, under the framework of the 5G Barcelona pilot programme for the 5G Connected Car, Ficosa, together with the other consortium partners Telefónica, SEAT, Mobile World Capital, ETRA and i2Cat, shares three use cases of a 5G connected vehicle with C-V2X technology developed by the company in a real city environment for safer driving.
Specifically, the three assisted-driving use cases that are shown on the streets of Barcelona and Hospitalet de Llobregat (around the Mobile World Congress fairgrounds) are:
Detecting a pedestrian in a zebra crossing: the traffic light will use a thermal camera to detect a pedestrian in the crossing and warn the vehicles, which will display an alert message on the control panel, if necessary.
Detecting a cyclist when turning right: the connected cycle equipped with a high-precision geolocation solution communicates with cars around it to report its location. In the event of a possible collision, the cars will display a warning on the control panel.
Detecting a car stopped on the road with low visibility: the car stopped on a section of road with low visibility activates its hazard lights and automatically warns approaching vehicles with a message on the control panel.
These use cases show how C-V2X technology offers a safer and more comfortable driving experience by allowing the vehicle to communicate with everything around it (other cars, traffic lights, traffic signals, pedestrians, cyclists, motorbikes, etc.). For cars to 'talk' to the city, however, latency must be kept to a minimum. So, it is essential to roll out 5G capabilities.
In this regard, the 5G connection for this demo of the pilot programme has been made possible thanks to Telefónica's end-to-end connectivity. Plus, the 5G technology provided by Ericsson and the Qualcomm next-generation connectivity platform for network communication and direct communication have been key players in this project.
First company to launch C-V2X technology to market
 Ficosa has become the first company to launch C-V2X technology to market after connecting 500 vehicles with City Now, Panasonic's smart city in Denver, Colorado (United States), in collaboration with the Colorado Department of Transportation (C-DoT).
 Ficosa is Panasonic's exclusive supplier and installer of the On Board Units for vehicles in this smart city. The On Board Units are a key device for connected mobility, that allows the vehicles to speak to each other and any other infrastructure element in City Now.
 Leaders in advanced communications
 In recent years, Ficosa has put a huge effort into technology and innovation for advanced communications in order to lead the race to the car of the future.
 In this regard, the company has focused mostly on developing antennas systems and telematic modules, which allow both internal and external connectivity and are key for both connected and driverless vehicles. As technology increases the amount of information coming from the vehicle, users and their surroundings, Ficosa's solutions focus on data protection and security.