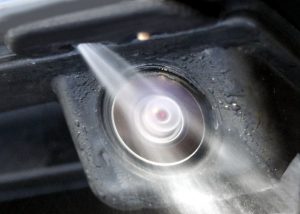 – The solution, named Sensor & Camera Cleaning, represents a major step towards a safer and more comfortable driving
– With 50 years of experience in windshield washer systems, Ficosa has patented a product that expels water and air to remove dirt from sensors and cameras
– Sensor & Camera Cleaning is a pioneering, lightweight and small-size device which can be customized depending on each car manufacturers needs
Barcelona, October 28, 2015.- Ficosa, a top-tier global provider dedicated to research, development, production and sales of vision, safety, communication and efficiency systems for the automotive industry, revolutionizes the market of sensors and cameras integrated into the car with a pioneering solution to clean the lenses of these devices automatically. Named Sensor & Camera Cleaning and patented by the company, this innovative product removes dirt from cameras and sensors through a hybrid system that expels water and/or pressurized air depending on the need and lenses position, guaranteeing at all times a proper performance.
Robert López, Ficosa´s technical director, explains: "The implementation of cameras and sensors in the car has been a great innovation in the automotive industry. However, these systems have posed a new challenge: its cleanup". In that sense, any dirt that adheres to the lens can disable its function and affect the driver's visibility. "With Sensor & Camera Cleaning we have not only developed a product capable of responding to cameras and sensors cleaning needs but also we have taken an important step towards a more comfortable and safer driving," says López.
Sensor & Camera Cleaning is a lightweight and small-sized integrated device "all in one" (one box) that can be installed anywhere in the car. This product is connected to the windshield circuit, which represents an added value as it requires no additional water pump that would increase cost and weight.
Its operation is very similar to the windshield washer system, a sector in which Ficosa has extensive know-how thanks to its experience of over 50 years. In addition to clean with water, Sensor & Camera Cleaning can also incorporate the function of expelling air to quickly remove dust and water droplets that may remain on the lenses. Thus Ficosa provides car manufacturers an innovative product, available in several modalities, which can also be customized according to their needs, taking into account the function and position of each camera or sensor.
About Ficosa
Ficosa has its headquarters in Barcelona, and it is one of the top-tier global provider dedicated to research, development, production and sales of safety, communication and efficiency systems for the automotive industry. Founded in 1949 and committed to innovation, development and human values, Ficosa currently has nearly 8700 employees in 18 countries in Europe, North and South America and Asia, having consolidated sales of 949 million Euros in December 2014. Rear-vision systems (interior/side mirror) are Ficosa's main, globally renowned business, as recognised by the main OEMs worldwide. URL: http: //www.ficosa.com/
For more information: Ficosa Communication Department:
Tel: +34-93-2320044 Oscar Iniesta: oiniesta@arenalia.com ;
+34 609751845 Mònica Acero: macero@arenalia.com ; +34 615075981