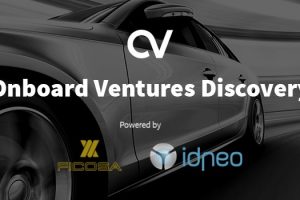 Under the framework of the Discovery programme promoted by Onboard Ventures, the open innovation initiative of Ficosa and Idneo
With support from Onboard Ventures, these emerging companies will display their solutions for the automotive industry on 11 and 12 May at the 4YFN Mobility Village in the Automobile Barcelona Connected Hub
Ficosa and Idneo have created Onboard Ventures with the mission of supporting start-ups in advancing their projects and turning them into sizeable, scalable businesses, with access to both companies' assets
Onboard Ventures, the open innovation initiative of Ficosa and Idneo -the Ficosa group's engineering firm specialized in developing high value-added technological products-, has selected 10 start-ups to present their solutions for the automotive industry at the Automobile Barcelona Connected Hub, the renewed Salón del Automóvil of the Catalan capital. These start-ups will have a booth, promoted by Onboard Ventures in collaboration with 4YFN, at the 4YFN Mobility Village, where they will display their projects in areas like smart mobility and driverless vehicles.
These 10 start-ups, from cities like Moscow, Berlin, Portland and Barcelona, have been selected within the framework of the Discovery programme, which Onboard Ventures kicked off this past March. These innovative projects include a solution to help cars find a place to park automatically, solutions based on the Internet of Things for motorcycles and bicycles, and a solution that will redefine human interaction through intelligent vision.
In the words of Edouard Rozan, Managing Director of Onboard Ventures: "We're very proud to be giving start-ups the opportunity to display their innovative, disruptive solutions at the Automobile Barcelona 4YFN Mobility event, as it is a true springboard for emerging companies. Discovery is the first programme promoted by Onboard Ventures and it has been a total success: in just five weeks, we received 75 submissions from over 25 countries around the world. All of them have an excellent level of quality, which made it very difficult for our panel of judges to choose these 10 finalists."
The finalists are: MAPIT IOT (Barcelona), a company that develops complete geolocation solutions; PARKTAG (Berlin), which is working to help cars find parking automatically; GESTOOS (Barcelona), which is redefining human interaction through intelligent vision; CAPTE (Amsterdam), which is working to boost vehicle connectivity; COMODULE (Tallinn), which offers Internet of Things solutions for bicycle and motorcycle manufacturers; CARFIT (Portland), which leverages car's vibrations to revolutionise predictive maintenance; MYWHEELS (Warsaw), which provides a driving assistant to make any car intelligent; ADVANCED NANOTECHNOLOGIES (Barcelona), which has developed anti-fog solution for car windows, based on nano-coatings, R3COMS (Berlin), which provides Ultra-Available Time-Critical Wireless Technology; and SITUM (Santiago de Compostela), which has developed a highly precise indoor geolocation system that stands out for its high accuracy, low infrastructure and fast deployment
Onboard Ventures, the open innovation initiative of Ficosa and Idneo
Onboard Ventures, created this past February, is a new business unit of Ficosa and Idneo with the mission of supporting start-ups in advancing their projects and turning them into sizeable, scalable businesses, with access to both companies' assets.
As Edouard Rozan highlights: "This initiative goes beyond venture capital, giving start-ups access to the assets of the Ficosa group and Idneo, including their technology, global reach, industrialisation and production capacity, team of professionals, portfolio of clients (which includes the top automotive brands in the world) and knowledge of the various sectors in which the group operates (automobiles, industry, energy, medical equipment, etc.)."
In addition to the Discovery programme, Onboard Ventures has also launched the Open Innovation programme, which is geared towards projects in a growth stage that already have clients interested. This initiative gives them the chance to create a joint venture, through a commercial deal, giving them access to the Ficosa and Idneo portfolios and promoting projects to give them global reach. This programme is ongoing and there is no deadline for applications. More information is available at www.onboard.ventures .