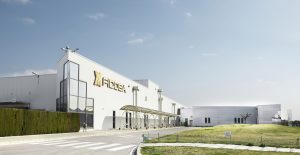 The multinational corporation is bolstering its team of engineers in order to address the profound transformation of vehicles in terms of connectivity, safety and efficiency
 These new hires will also work for Idneo, the Ficosa group's engineering firm that specialises in developing technological products with high added value
Ficosa, a tier 1 global provider devoted to the research, development, manufacturing and marketing of high-technology vision, safety, connectivity and efficiency systems for the automotive sector, expects to hire more than 100 new engineers for its Technology Centre in Viladecavalls (Barcelona) over the course of this year.
These new hires will help address the profound technological changes underway at Ficosa, which is currently devoting around 6.5% of its revenue in R&D, to lead the shift of automobiles to connected cars, driverless vehicles, assisted driving and e-mobility. These new hires will also work for Idneo, the engineering firm specialised in the development of technological products with high added value for mobility, medical equipment, consumer electronics and the industrial sector.
The engineering team is a key element of Ficosa and Idneo, as they are in charge of research and development for the whole group. In this regard, both companies are strongly committed to creating jobs with high added value. Only in 2016, 217 new engineers were hired for the Viladecavalls Technology Centre, substantially increasing the 82 positions announced early that year.
Viladecavalls, R&D Centre for the group worldwide
The Viladecavalls Technology Centre is home to the R&D centre for the whole Ficosa group, employing 670 of the 1,000 engineers that work for the company around the world. This facility is a benchmark in electronics and technology of excellence, focusing on vision, security, connectivity and efficiency systems. As the driving force for the multinational corporation's research worldwide, it works with the company's 13 development centres located around the world, near main customers (Detroit, Germany, France, China, South Korea, etc.).
At the same time, the extension of the deal with Panasonic –through which the Asian company took an additional 20% holding in Ficosa, going from 49% to 69%– will make the Viladecavalls Technology Centre a technological hub for connectivity, e-mobility and ADAS (Advanced Driver Assistance Systems) for the alliance.