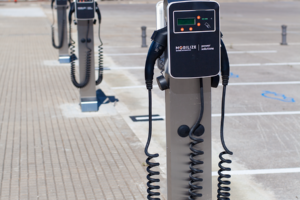 The installation of twelve chargers responds to the company's desire to promote sustainable mobility among its employees
Ficosa has also significantly reduced the consumption of plastics in the headquarters and the total amount of waste disposed of in landfills
Ficosa, a leading global company dedicated to the research, development, and production of advanced vision, safety, and efficiency solutions for the automotive industry, has installed charging stations for electric and plug-in hybrid vehicles at its headquarters in Viladecavalls. The action, which is part of Ficosa's commitment to sustainability, seeks to promote electric mobility among the company's employees.
In this sense, the company has installed a total of twelve chargers: six charging points for cars and six for motorcycles. All the chargers are available to the company's employees, who will be able to charge their vehicles whenever they need to.
In words of Ignasi Castelló, Chief Purchasing Officer of Ficosa: "At Ficosa we are reimagining mobility to move towards a more sustainable way of moving, a commitment that we are promoting with a global perspective: with our solutions, through the largest electromobility hub in southern Europe, where we develop and manufacture systems for battery management and charging of hybrid and electric vehicles, and thanks to the continuous improvement of our processes to reduce our environmental footprint. With this initiative, we want to go a step further so that our team can get to work while contributing to reducing CO2 emissions".
Multiple actions to reduce plastic consumption
In addition, over the last few years, the company has carried out a strategic campaign at its headquarters in Viladecavalls, in Barcelona, that has led to a significant reduction in the consumption of plastics and in the total amount of waste deposited in landfills.
As an example, since mid-2021, the purchase of specific individual chemical products has been replaced by bulk products. This action has contributed to the reduction of dangerous chemical packaging waste. During the third and fourth quarters of 2021, the purchase of plastic packaging was reduced by 58%.
At the same time, all plastic bottles have been eliminated from the menus, leading to a reduction of 522.68 kg of plastic bottles last year. It has also managed to reduce 1.63 tons of plastic waste, establishing a system for the return and reuse of plastic boxes used to transport food.
A global sustainability strategy
Ficosa works to promote the sustainable development of society through constant innovation and the development of environmentally friendly solutions and actions. Energy efficiency, the use of energy from renewable sources and commitment throughout the value chain are the three fundamental pillars on which the company's decarbonization strategy pivots. Its products not only improve safety in mobility, but are also designed and manufactured to generate the least possible impact on the environment throughout the value chain.
One of the main objectives of Ficosa's sustainability plan is to achieve the reduction of 100% of emissions associated with the consumption of electricity, fossil fuels and refrigerant gases by 2030.
Ignasi Castelló, Chief Purchasing Officer at Ficosa, states: "It is our duty to continue moving forward to help build a better future, using environmental, social and economic progress as drivers of change".