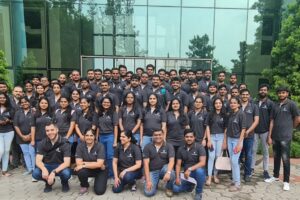 After five years of growth, Ficosa India Engineering Centre consolidates its position as the company's technology hub in the country
This initiative is the tangible demonstration of Ficosa's commitment to internationalisation, positioning the company as a benchmark international group in the automotive, mobility and innovation sector
FIEC (Ficosa India Engineering Centre), Ficosa's technology hub in India, is a software engineering centre focused on technology development. Ficosa opened the centre in 2018 with the aim of gaining an international presence, and to take advantage of the expertise and experience offered by the new technologies available in India. Since its foundation, the centre has grown exponentially, both in terms of staff and knowledge.
In its first five years, the centre has grown from 9 employees to a staff of 80, thanks to a strong and determined growth strategy. FIEC expects to end the year with 95 employees, 84% of whom will work in R&D and 16% in support functions. In addition, the centre expects to have 112 employees by the end of 2023, which will represent an annual workforce growth of 18%.
Daniel Muñoz, head of FIEC, says, "India is a great hub of technological talent, and at FIEC we are working to boost the local ecosystem and accelerate the transition to the mobility of the future, with a focus on innovation and sustainability."
One of FIEC's objectives is to promote and encourage female talent. With this in mind, 29% of the centre's employees are women. This is quite an achievement in a country where the presence of women in the world of work, especially in the automotive sector, is complex. The centre intends to increase this figure in the coming years.
The top priority of FIEC is to provide opportunities and boost local and international talent in India, as well as to create a working environment based on trust and diversity. An example of this commitment is the incorporation of young recent graduates into FIEC. By involving them in the company's projects and technologies, the centre provides these young graduates with a global perspective.
FIEC, a pioneer in innovation in the automotive sector
FIEC has implemented a wide range of projects and delivered technological solutions that are at the forefront of innovation. Key initiatives include projects to develop new technologies for Advanced Driver Assistance Systems (ADAS). Particularly significant among these are the Camera Monitoring System (CMS), Surround View System (SVS) and In Cabin Monitoring (ICM) projects, for some of the major global OEMs (Original Equipment Manufacturers).
More than 73 years committed to internationalisation
Ficosa, a leading global company dedicated to the research, development, production and marketing of advanced vision, safety and efficiency solutions for the automotive industry, has a well-established internationalisation strategy that has consolidated its position as a benchmark international group in the automotive and mobility sector, with a presence in 15 countries in Europe, North and South America, Asia and Africa.
Javier Pujol, CEO of Ficosa, says, "Our commitment to internationalisation is demonstrated by our investment in centres such as FIEC, with which we intend to embrace a global strategy that provides greater competitiveness in the world market, offering cutting-edge services that are geographically closer to OEMs, the original equipment manufacturers, in all the countries in which we are present."