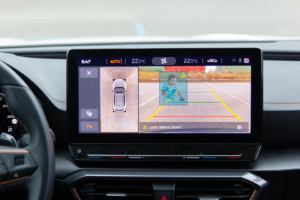 Spanish company Ficosa signs development and commercial agreement with Canadian LeddarTech to further advance autonomous driving.
The aim of this initiative is to integrate LeddarVision™ AI-based sensor fusion and perception software to support advanced driver assistance systems by Ficosa.
Ficosa, a leading global company dedicated to the research, development, production and marketing of advanced vision, safety and efficiency solutions for the automotive industry, and LeddarTech, a leader in AI-based fusion and perception software solutions for autonomous vehicles and advanced driver assistance systems, have signed a development and commercialization agreement for the development of a smart automatic parking assistant.
Through this agreement, Ficosa will integrate the LeddarVision™ software into Ficosa's advanced driver assistance systems (ADAS) for parking. LeddarVision™ is a high-performance sensor fusion and perception software that provides extremely accurate 3D models of the vehicle's surroundings, developed using raw data inputs from sensor systems. This raw data fusion and perception software enables the detection of even the smallest obstacles on the road, with fewer false alarms and greater accuracy than with similar traditional object-based perception solutions. This agreement will enable the full potential of this software to be combined with Ficosa's leadership in cameras and vision systems in the automotive sector. The company already offers a range of products to cover all vehicle segments, including an independent rear-view camera, independent intelligent rear-view camera, surround view system and autopark system. It is worth noting that Ficosa is producing more than 8 million rear-view cameras on an annual basis globally. This product was first developed in 2014 and serves as an essential part of advanced driver assistance systems.
With this announcement, Ficosa continues to strengthen its intelligent in-vehicle parking assistance system with a solution that allows an even more detailed and precise perception of the surroundings. Based on this information, the vehicle will be able to better "understand" the context in which it is moving and better detect and respond to unexpected objects, such as a pedestrian crossing its path.
Another step towards autonomous vehicles
The agreement between Ficosa and LeddarTech is an important milestone that will enable car manufacturers to offer an improved experience using advanced driving assistance systems. This alliance also represents further progress towards the consolidation of the autonomous vehicle. In the autonomous mobility ecosystem, the collection and analysis of reliable and detailed environmental data is an essential step towards ensuring the highest standards of safety and comfort for users. Through the collaboration between the two companies, the technological solutions needed to harness the full potential of autonomous driving can be further refined.
Josep Maria Forcadell, Chief Technology Officer at Ficosa, comments: "This strategic alliance with LeddarTech allows us to continue to revolutionise the in-vehicle experience and consolidate our global network of partners. At the same time, it represents a new turning point that allows us to take additional steps towards building a future mobility that is safer, more enjoyable and more efficient for everyone".

"LeddarTech is committed to delivering the most scalable and flexible software solution that enables the highest performance ADAS and AD features for the automotive industry. Our agreement with Ficosa will accelerate the deployment and adoption of advanced parking systems while delivering on our vision of enabling ADAS and AD solutions that improve the quality of people's lives," stated Charles Boulanger, CEO of LeddarTech.