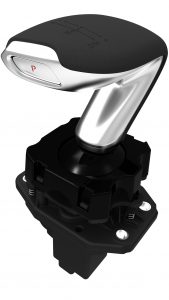 Ficosa is a leader in Shift-by-Wire automatic gearshifts, which work through electronic controls without any mechanical linkage between the shift lever and the transmission
The new generation of this model incorporates an automatic gearshift 'by wire' (without mechanical cable) of reduced design developed and patented by Ficosa
Barcelona, July 22 2015.- In the new Renault Espace shape and utility come together to create a multifunctional and spacious crossover that stands out for its exceptional design and technology. The latest generation of Renault's flagship model incorporates the new "Shift by Wire" automatic gearshift based on the concept of movement detection "Minishifter" which has been developed, produced and patented by Ficosa, a top-tier global provider dedicated to research, development, production and sales of vision, safety, communication and efficiency systems for the automotive industry.
This gearshift "by wire" surprises for its compactness, reduced size and lightness -it weighs only 0.5 kg, representing a reduction of over 75% in weight compared to conventional automatic gearshifts. These features open up a new range of design possibilities inside the car, allowing to create an element that becomes very important in the new Renault Espace: the futuristic floating center console inspired by the world of aviation.
Cutting edge technology
The new automatic gearshift also stands out for its technical characteristics. Thanks to the "Shift by Wire" technology, which works with automatic controls with no mechanical connection between the shift lever and the transmission, it provides a highly-precise and effortless gear change. In turn, it makes possible to remove the space required to house the mechanical connections.
The shift system is based on an innovative movement detection module, called "Minishifter" because of its small size, which is mounted on the electronic board. This module reproduces the lever movements and, through a magnet, transmits them to a three-dimensional magnetic sensor that sends the signal to the ECU system. The other major innovation is the "plug and play" assembly of the lever knob. Thus, the mechatronic knob set, which incorporates a "Parking" lock of the drive wheels for parking and integrated lighting, has been mounted without any tool, uniting in a single gesture the mechanical and electrical connection. This facilitates the vehicle assembly and aftermarket future operations.
This automatic gearshift has been developed and produced in Ficosa Technology Center in Viladecavalls (Barcelona).

A leading company in gearshifts
Ficosa is a leader in the development and production of all types of automatic and manual gearshifts, satisfying the different driving styles and OEMs' requirements, both in terms of mechanical or electronic features and comfort of use.
The company has also been at the forefront in "Shift-by-Wire" gearshifts, which are the latest generation in automatic gearshifts that replace all mechanical action. Its electronic controls system and software reduce effort and improves performance, allowing freedom of design and positioning in the cabin.
About Ficosa
Ficosa has its headquarters in Barcelona, and it is one of the top-tier global provider dedicated to research, development, production and sales of safety, communication and efficiency systems for the automotive industry. Founded in 1949 and committed to innovation, development and human values, Ficosa currently has nearly 8700 employees in 18 countries in Europe, North and South America and Asia, having consolidated sales of 949 million Euros in December 2014. Rear-vision systems (interior/side mirror) are Ficosa's main, globally renowned business, as recognised by the main OEMs worldwide
URL: http: //www.ficosa.com/
For more information:
Ficosa
Communication Department:
Tel: +34-93-2320044
Oscar Iniesta: oiniesta@arenalia.com +34 609751845
Mònica Acero: macero@arenalia.com; +34 615075981