WINDSCREEN AND HEADLIGHT WASHER SYSTEMS
The windshield and/or headlamp washer equipment is made up of the liquid tank, the propulsion pumps, the cap, the deposit flowmeter, the canalization tubes, valves, taps and nozzles.
This equipment has been developed and produced entirely by Ficosa since 1965 when it was manual. Today it is an electrical system in which the propulsion pumps are a fundamental part of the machine. The other basic part is the deposit that is controlled and produced at the company's facilities in the same way as the rest of the equipment components.
Available as components or complete systems, our washing systems adapt to vehicle manufacturers' requirements and installation prerequisites.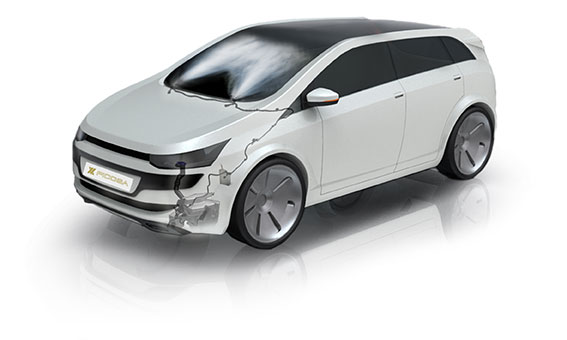 JET NOZZLES
Low flow headlamp washer system  –  telescopic nozzles for windscreens
The HLC low flow headlight washer telescopic nozzles developed by Ficosa are the smallest on the market. With a strengthened headlight washer pump and the same tubes and coupling used in the windscreen washer, high-level washing performance is obtained.
In standby mode, the dispenser is hidden in the bumper, improving the aesthetic and safety regulations, since it is not invasive in the event of hitting a pedestrian.
The characteristic of the windscreen washer telescopic nozzles ensures their optimal use for cleaning the front and/or rear windscreen since the distribution of liquid to glass is improved. This is an ideal solution in the case of the rear windscreen as it is able to project the liquid even when the angle of the glass is perpendicular to the horizontal axis of the floor. It is also retractable from the body, which adds another aesthetic quality to the telescopic function.